I am very excited to share 100 of the best places to elope in Australia. Australia is truly the most amazing place to elope. It has some of the most diverse landscapes that you can see anywhere in the world. And I seriously think that we as Australians don't take full advantage of the beauty of this country for elopements.
The amazing thing about elopements is that you can almost get married anywhere. You just need to get permission. And most of the time because it is a very small number of people, and it is very low impact, you can get that permission.
You can't just show up and have a marriage ceremony. You have to get permission in the form of a permit or something in writing.
Some of these places I have listed, may not allow elopements or more precisely, the actual marriage ceremony. Often sites that are sacred or significant to the Aboriginal culture, won't allow marriage ceremonies. But you may be able to have the elopement ceremony somewhere close by and then take photos there afterwards.
It is also equally important to leave no trace of your ceremony on the environment. This is especially important in National Parks. Leaving rubbish (including flowers and confetti) or damaging surrounding is bad for the environment and will also affect future couples looking to elope in these special places.
Best Places to Elope in Australia
It is a long article, so feel free to skip down to your state to see some elopement ideas:
There is also no limit to the style of elopement you are after in Australia. We have so many different landscapes and sceneries. From the modern world-class cities with some of the best restaurants in the world. To the snowy mountains and wilderness regions. There are Australia's white sandy beaches and islands. And there is Australia's famous 'outback'
Let me just say that I haven't photographed elopements at all these places. But I really feel that these are some of the very best places to elope in Australia. Most of these places are just on my elopement bucket list, and some of these places may never have had an elopement ever.
So… in no particular order, here is my list of 100 of the most breathtaking places to elope in Australia.
New South Wales
1. Sydney Harbour
It would be remiss of me if I didn't list Sydney Harbour as one of the best places to elope in Australia.
Sydney is arguably the most beautiful harbour city in the world and it has two of Australia's most iconic buildings right on the harbour… The Sydney Opera House and the Sydney Harbour Bridge. And you can actually elope at both these place. Inside or outside the Sydney Opera House or you can elope on the very top of Sydney Harbour Bridge.
You can literally elope anywhere and everywhere in Sydney. You can elope on a boat on the harbour, in one of the many parks overlooking the harbour, in the tallest building in Sydney. In a theme park on the harbour or on one of the little islands in the harbour.
There are lots of beautiful locations for a small intimate elopement somewhere in Sydney Harbour.
2. Hunter Valley
The Hunter Valley region of NSW is one of Australia's major wine regions and it is just beautiful for elopements.
If you are looking for a rustic country setting with rolling hills, vines as far as the eye can see, big tree and mountains then this could be the perfect location to elope to.
It is extremely popular with tourists, weddings, concerts and events. There is so much great accommodation and it has some of the best restaurants in NSW. There are many places that cater to smaller weddings. But you can also approach your favourite winery or vineyard and see if they will allow you to hold your elopement on their property. They may allow it for a small fee or if you agreed to buy a certain amount of wine.
You won't be disappointed with the Hunter Valley for your elopement. There is a reason why it is so popular for weddings, elopements and tourists alike.
Goosewing Cottage – This is one of the best places to elope in Australia and definitely one of the best in the Hunter Valley. Located in Mount View is has some of the most spectacular scenery in the region. Goosewing Cottage offers all-inclusive elopement packages and you can do your whole elopement on-site at the one location. Packages can include accommodation, celebrant, hair & makeup, cake, flowers, professional photography. So all you need to do is show up and get married!
3. Blue Mountains National Park
If you are looking for a mountain top elopement, you will find that at the Blue Mountains in droves.
The Blue Mountains is a world heritage listed area with huge mountain peaks, deep gorges and waterfalls. It is a beautifully rugged landscape and is perfect for an epic elopement. There are also some of the best mountain top resorts and restaurants, so after a day eloping you can head back to some luxury.
The Blue Mountains is not just the Three Sisters at Echo Point, there is so much more. There are quite a few lookouts with safety rails with amazing views over the valley that you can have a small wedding at. This is particularly important of you have any little kids attending your elopement.
But the whole escarpment is littered with rocky outlooks where you can get some of the most spectacular views for an elopement. There are some quite popular locations, like Lincoln's Rock, but there are others which would never have seen a wedding or elopement ever before. Some of the locations I would love to shoot at require a little bit of a hike, but I think the results would be well worth it.
4. Snowy Mountains
The Snowy Mountains region in NSW is the highest mountain range on mainland Australia. And it contains Australia's highest mountain, Mount Kosciuszko (2,228 m). So you know it is totally spectacular for an elopement.
The Snowy Mountains is located about 5 1/2 hours drive from Sydney or you can fly into the airport located 15km from Cooma. And there are quite a few locations within the Snowy Mountains that would be great elopements. These include Cooma, Jindabyne, Berridale, Adaminaby, Perisher Valley, Thredbo, Charlotte Pass, Lake Crakenback and Selwyn Snowfields.
For an elopement, I would recommend just to avoid peak ski season. It is just too busy and everything is booked out. Spring, Autumn and Summer are good options. The photo below, for instance, was taken at Charlotte pass in early November.
5. Jenolan Caves
Elope in one of the worlds most spectacular cave formations at the Jenolan Caves. Do something completely unique and different for your elopement and get married at an underground wedding venue.
The Jenolan Caves are limestone caves located west of the Blue Mountains in the Central Tablelands region of NSW. The caves stay at a constant temperature of 15°C and there are nine of the three hundred caves are open to the public. There is accommodation available onsite at the Jenolan Caves House and the surrounding landscapes are quite beautiful.
If you had your elopement ceremony here, it would be in a big limestone cave with stalactites and stalagmites surrounding you. It would be fairly dimly lit, almost in an ancient or medieval setting. With the sound of a violin playing the setting could be extremely romantic and dramatic.
So if you are looking for something a little different to the normal that this place might be the perfect elopement location for you.
6. Somersby Falls
Somersby Falls on the Central Coast of NSW is one of the most spectacular sets of waterfalls in NSW that is so easily accessible. It is located less than an hour from Sydney in the Brisbane Water National Park and it is a beautiful location for a waterfall elopement.
This beautiful waterfall is probably one of the easiest waterfalls to access. It is just an easy stroll down some steps from the car park and over a few rocks and then you are at the first waterfall.
It has two main sets to it. The first one is the biggest and most popular. It has a little creek that people swim in and a nice open rock area to sit and watch the falls.
Then it is just a couple of hundred metres walk down to the bottom of the falls where the landscape opens up a bit more into Floods Creek. The bottom of the falls is another magical place but it is really slippery. Once you leave the stone steps you are basically crawling over moss-covered rocks. So take it easy and be careful.
If it hasn't rained for a while the falls can be less than impressive, but after some recent rain, the place looks spectacular. It is extremely popular in summer and on the weekends. So if you are thinking of an elopement here, I would do it early, late and mid-week.
7. Olney State Forest in the 'Watagans'
The Pines Picnic Area in Olney State Forest is one of the most beautiful forests in NSW and is a real hidden gem that most people don't know about.
Olney State Forest is located west of Lake Macquarie and it is bordered by Watagans State Forest, Wyong State Forest and Watagans National Park.
The area that is amazing is a small pocket of forest called The Pines Picnic Area and this slash of pine trees were planted in the 1920s and 1930s and they are incredibly impressive when you see the area.
8. Lord Howe Island
Stay on a beautiful subtropical island and have an elopement on Lord Howe Island. This tiny island is located in the Tasman Sea east of Port Macquarie just a two-hour flight from Sydney or Brisbane.
It is a tropical paradise located in New South Wales! The first thing you notice when you see Lord Howe Island is Mount Gower, which at 874 metres, towers on the island. The water is crystal clear and full of fish and sea life. And this island has many beaches, coves and hills to explore.
There are various dining and accommodation options but Lord Howe Island will only accommodate up to 400 people, which actually makes it even more special.
Have your ceremony on a beach, in a park or at a lookout with views out over the island. Wedding photography opportunities here are literally endless as the island is stunning. If you had your elopement here you would get unbelievable photos.
9. Kanangra-Boyd National Park
Kanangra-Boyd National Park and in particular, Kanangra Walls Lookout offers some of the best views in Australia in my opinion and would make an epic elopement location.
It is located about 3 1/2 hours drive from Sydney, about 45 minutes from Jenolan Caves, and is part of the Greater Blue Mountains World Heritage Area.
From the car park, it is an easy ten minute walk to the lookout but please note that it is unfenced and there is a seriously huge drop below. So it is not suitable for young children. And no photo is worth taking unnecessary risks. But the views are incredible.
From the lookout you can see over Kanangra Deep and also the Kanangra Walls. Out in the distance there is also Mount Cloudmaker. You can walk around and do the Plateau Walk which is equally incredible.
10. Hyams Beach
Would you want to elope on the beach with some of the whitest sand in the world? You can at Hyams Beach!
Hyams Beach is a tiny village town located in the Shoalhaven city of Jervis Bay. It has a population of just over one hundred people and it is said to have some of the whitest sand in the world. If you have never experienced this kind of sand, it is a fine powdery type of sand that actually 'squeaks' when you walk on it.
I would avoid eloping at this location in Summer or school holidays as the population explodes from 100 to over 4000 people. But other times it would be perfect.
You don't get such white sand and such blue water in many places around the world. This makes it one of the best beach locations to elope in Australia.
11. Byron Bay
Byron Bay is a coastal town located on the northern end of New South Wales, close to the Queensland border. Renowned for its spectacular ocean views, sweeping countryside and an easy going lifestyle, Byron Bay is one of the most beautiful coastal towns in Australia.
Byron Bay is very popular with tourists and locals looking for a weekend getaway destination. It is also fast becoming one of the most popular destinations for weddings and elopements. Some of the accommodation and properties that can cater to an elopement are unbelievable.
There are also some lovely places for photos around Byron Bay. There is of course the beautiful beaches with their rocky outcrops. Clarkes Beach and Fiasherman's Lookout would have to be a couple of my favourite locations. Cape Byron Lighthouse. And Kitten Falls is a big beautiful waterfalls that you can walk under and swim in.
Byron Bay is a perfect location for an elopement and a perfect place to start your honeymoon.
12. The Firs – Stewarts Brook State Forest
The Firs is like another world and one of the most amazing places I have ever visited. So if you are looking for a magical place to elope in, then look no further than here. This is one of the most enchanting places to elope in Australia.
This small pocket of enchantment is located in Moonan Brook near the Barrington Tops National Park. It is just over four hours from Sydney by car or three hours from Newcastle.
It is a wonderful drive as you ascent up a mountain into the Stewarts Brook State Forest. And the temperature changes so much from the bottom of the mountain to the top. It was a nice, slightly overcast day at the bottom, and at the top it was misty and about ten degrees colder. In winter it often snows!
I did an engagement session at this place and I didn't want to leave and I can just imagine that an elopement ceremony here would be even more amazing.
13. Wolgan Valley
Wolgan Valley is a beautiful valley located along the Wolgan River in the Lithgow region of NSW. It is part of the Greater Blue Mountains World Heritage Area and it has some of the most majestic Australian landscapes around.
Emirates One&Only Wolgan Valley is the major resort there, but there are a few other farms, cottages and properties in the area where you may be able to elope.
The photo below is from a recent elopement I photographed there, and from the picture, you can see just how big it is and grand the valley is. And I could shoot fifty elopements there and they would all look completely different because there is just so much land to explore and take photos on. One of the most epic places to elope in Australia.
14. Mungo National Park
Mungo National Park is part of the Willandra Lakes Region World Heritage area and it is a location with scenery that you would very rarely see anywhere.
It is located about 10 hours west of Sydney by car. 6 hours Melbourne, 6 hours from Adelaide or just 1.5 hours from Mildura.
Mungo National Park is very important to the Aboriginal Culture and human history. There are archaeological finds that carbon date to over 40,000 years old which indicate that Aboriginal people lived in the area during that time. Making it the oldest know human inhabitance in the southern hemisphere.
This would be the most amazing place for an elopement and is definitely one of the best places to elope in Australia. A ceremony near the Walls of China in Lake Mungo, followed by photos around the landscape and in the nearby sand dunes would be out of this world.
An elopement would be perfect because it is so low impact on the environment. But they don't let visitors just walk everywhere anymore. You need to be accompanied by an authorised ranger or tour guide. So if you were somehow able to get permission and a permit here, you would be one of the very few that have.
15. Capertree Valley
You could get married in the Capertree Valley the worlds second-largest canyon and spend your wedding night glamping in a Bubble Tent. How good would that be?
The Capertee district is beautiful and awe-inspiring with its natural wonders, like its sandstone escarpments. It is surrounded by National Parks and farmlands
16. Sydney Aquarium
If you are looking to get married with sharks, you can actually elope in Sydney Aquarium. You can choose to marry in front of different marine exhibits and also have a private dinner for two.
A Sydney Aquarium elopement would be really unique and you would get some really amazing wedding photos. If you are from Melbourne, it is worth noting that you can also elope or have a small wedding at the Melbourne Aquarium.
17. Horse Head Rock
Horse Head Rock is somewhere I think would be perfect for an elopement ceremony on the beach. Time it with sunrise or sunset and it would be perfect in my opinion.
It is located on the Sapphire Coast in Lake Wallaga and it is away from the main beach so it is fairly secluded. It's hidden around the corner from the Camel Rock headland.
If you are planning a ceremony here I would just plan it for low tide so you can access the rock easily and safely.
18. Norfolk Island
This tiny island in the South Pacific Ocean, Norfolk Island, is characterised by its huge pine trees and jagged cliffs. And it would be a lovely location for an elopement.
Norfolk Island is about a three-hour plane ride from Sydney and is located about halfway between Australia and New Zealand. It has World Heritage convict buildings and some beautiful scenery.
A Norfolk Island elopement or small wedding would be laid back, relaxed and beautiful. It is also a great location to combine your elopement and honeymoon, making it one of the best places to elope in Australia.
19. Stockton Sand Dunes
If you are looking for a desert elopement on the coast of NSW then the Stockton Sand Dunes might be the location for you.
The Stockton Sand dunes are located up towards Port Stephens, just past Newcastle. And they are the largest coastal sand dunes in the Southern Hemisphere. They are thirty-two kilometres long and they are the largest towards the Anna Bay end.
A Stockton Sand Dunes elopement towards sunset would be really beautiful as it would really bring out the colours and contours of the dunes.
20. Central Coast
The Central Coast of NSW is one of the most beautiful and diverse regions and a perfect location for an intimate elopement. And it would probably be one of Australia's best-kept secrets and only the locals really know how awesome it can be.
The region of the Central Coast stretches north of Sydney from the Hawkesbury River around 100 km up to Lake Macquarie. So it is a huge area and it is not all just beaches. There are beaches, and there are some of most beautiful, but there is a lot more. There are epic coastal clifftops, waterways, lakes, National Parks, State Forests, wineries, farm properties and some of the most modern accommodation and dining options around.
If you are thinking of eloping to the Central Coast, we would recommend to avoid peak times, like during school and Christmas holidays. As most of Sydney travels up to the coast during these periods and it can get very busy.
Some of our favourite locations for an elopement would include:
Bouddi National Park – Beautiful coastal National Park, with secluded beaches, epic coastal cliffs and a really scenic bush setting with lots of lookouts with amazing views.
Sommersby Falls – Beautiful set of waterfalls that are easy to access, less than an hour from Sydney.
Norah Head – Stunning lighthouse with a beach and some beautiful rock formations below it.
Lake Munmorah Conservation Area – This place has some of the most epic clifftops on the east coast of Australia. Some beautiful little beaches and one of the longest stretches of beach with barely anyone on it.
Catherine Hill Bay – This former mining village is one of the most popular locations for landscape photographers as this area features a huge jetty and a stunning beach.
Yarramalong Valley – If you are looking for a rustic, farm like setting, then this might be the area for you. Plently of farms and small wedding venues that can cater to elopements.
21. Kangaroo Valley
Scenic fields, stunning forest and a tranquil river make this secluded location in Shoalhaven area one of the most scenic valleys in Australia. Kangaroo Valley would have to be one of the best places to elope in Australia.
The Kangaroo River runs through the valley, there is nearby Morton National Park, Fitzroy Falls, Gerringong Falls and many beautiful properties and wedding venues.
22. Dangar Falls, Dorrigo National Park
The Dangar Falls is a beautiful waterfall situated over the Bielsdown River approximately 1.2 km north of Dorrigo, in New South Wales.
Landscape photographers love this waterfall and if you are looking for waterfall places to elope in Australia, Dangar Falls should be on your list. It is easy to access and there is a nice area to have a beautiful elopement ceremony.
---
Victoria
23. The Twelve Apostles, Great Ocean Road
This is probably Victoria's most beautiful and iconic landscapes. The Twelve Apostles on the Great Ocean Road. What an epic location for an elopement!
The Twelve Apostles is a collection of limestone stacks that have been formed from hundreds of years of erosion from the harsh weather and ocean in the Southern Ocean.
I would personally try to avoid the main tourist spots, which is mainly the fenced lookout areas. And either have a small elopement ceremony up on the cliffs at an unfenced area, like Secret Apostles Lookout. Or have your ceremony down on one of the beaches like Gibson Beach, Loch Are Gorge. And make sure you don't schedule it at high tide.
24. Dandenong Ranges
The Dandenong Ranges is a beautiful region of Victoria approximately thirty minutes east of Melbourne. It is known for its beautiful cool climate gardens and is a beautiful place for an elopement or small wedding.
There are beautiful locations like the Alfred Nicholas Gardens which has picturesque waterfalls and a stunning lake and boathouse. Marybrooke Manor, SkyHigh Mount Dandenong, Poet's Lane, Chateau Wyuna are just some of the beautiful venues you can check out. But the whole region is full of places where you could potentially elope.
If you are looking for a place for a beautiful elopement, that is close to Melbourne but feels like you are in another world, then you should definitely consider the Dandenong Ranges.
25. The Yarra Valley
The Yarra Valley, which dates back to 1838, is Victoria's oldest wine region and has gained an international reputation for its chardonnay and pinot noir. It is about an hour from Melbourne making a perfect location for a elopement.
The region is full of beautiful small wedding venues, locations, vineyards, historic houses and properties. And there is a huge variety in the styles of venues available.
26. Redwood Forest Warburton
There is an amazing Californian Redwood forest in Victoria! Who knew?
The Redwood Forest is located about fifteen minutes from the town of Warburton and it is home to a large plantation of Californian Redwoods which was planted in 1930. There are an amazing 1476 trees and they are up to fifty-five metres in height.
They do elopements and small weddings and I think if you are looking for a location with a really unique environment, this place could be perfect.
27. Erskine Falls
Erskine Falls is a really beautiful location for a waterfall elopement in Victoria.
This waterfall is located in the Great Otway National Park and is located about fifteen minutes from Lorne. It is located in a lush green fern gully with rivers and waterfalls. There is a first lookout at the top and then a 230 step walk down stairs to the bottom where you can see the full waterfall and really appreciate its beauty. From there you can also explore further downstream if you like as there is a 7.5km walk.
Like most waterfalls, they will look better if there has been recent rain. Another waterfall closeby to Erskine Falls is Hopetoun Falls, which may also be a nice option for an elopement ceremony.
28. Wilsons Promontory
On a peninsula southeast of Melbourne, the spectacular Wilsons Promontory National Park is located. It is renowned for its mountains of rugged granite and plentiful wildlife including kangaroos and wombats. Squeaky Beach is another highlight with its white quartz sand. Nearby Mount Oberon offers views of the Bass Strait and the islands offshore.
29. Mount Hotham
Mount Hotham is a mountain in the Victorian Alps of the Great Dividing Range about 4.5 hours by car from Melbourne or 7.5 hours from Sydney. Hotham is one of Australia's highest alpine towns and it is a pretty stunning location for an elopement.
There are numerous venues and accommodation to choose from as well as a variety of locations to have your elopement ceremony. I would probably avoid the middle of ski season or in school holidays as it is an extremely popular destination
An elopement here is all about the epic mountain landscapes. The scenery is simply stunning. This beautiful mountain location mixed with some luxury facilities makes Mount Hotham an ideal elopement destination.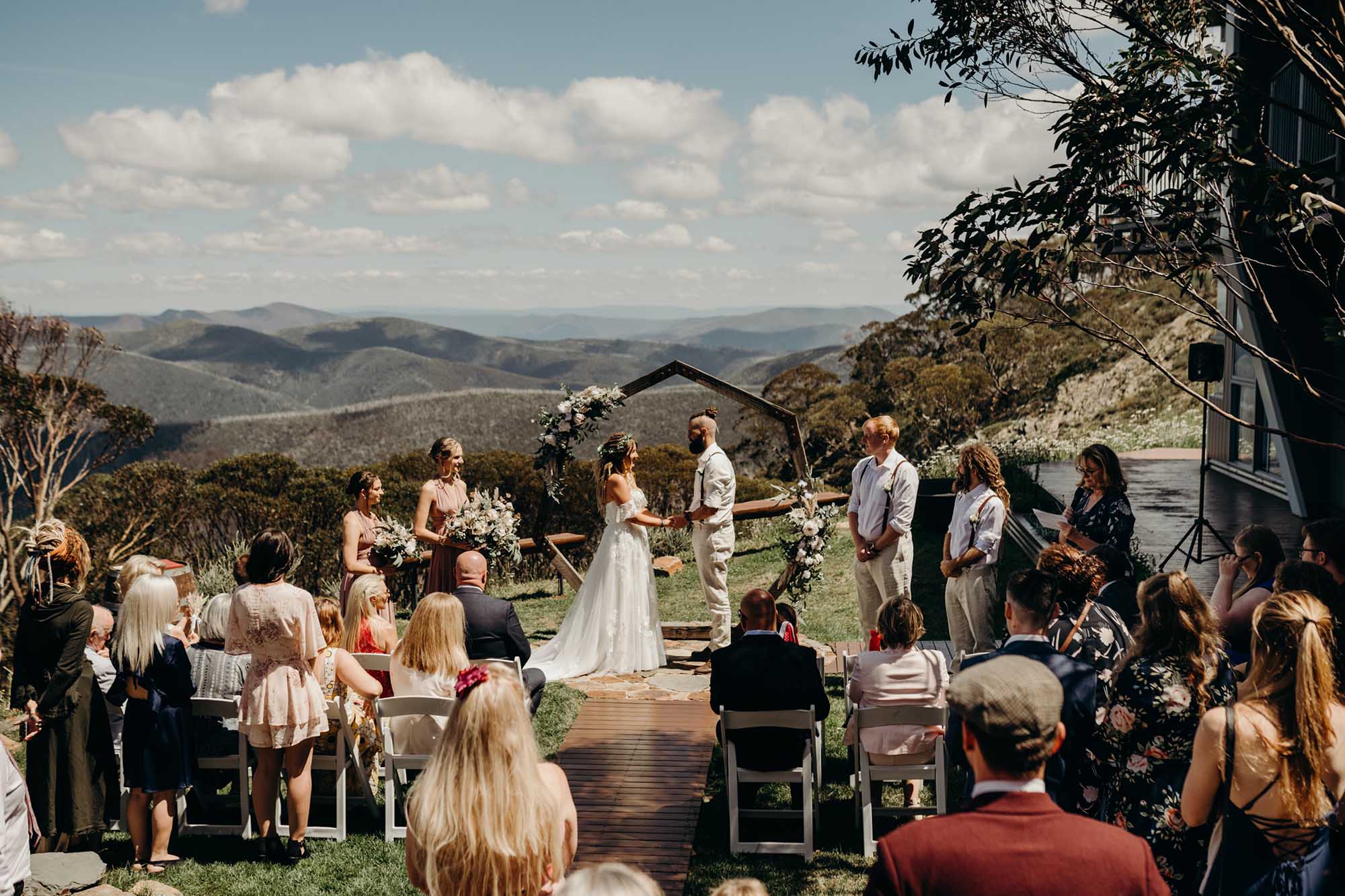 30. Craig's Hut at Mount Stirling
Be a part of Australian film history and elope at Craig's Hut in Mount Stirling.
Located four hours from Melbourne, the hut was originally built for the iconic 1982 Australian movie, The Man from Snowy River. It was damaged in the 2006 bushfires but was rebuilt and reopened.
What I also love about this location is the magnificent panoramic views. Mount Stirling is located in the Victorian Alps of the Great Dividing Range and there are so many other stunning locations on the mountain which would look wonderful for your elopement and wedding photography photos.
31. Mount Buffalo National Park
Mount Buffalo National Park is located about fours hours from Melbourne and this place is a pretty epic location for an elopement.
I think that an elopement here during the non-ski season would be amazing. There are some lovely walks and some spectacular landscapes that would be stunning for elopement and wedding photos.
There are lots of walking tracks with views over huge granite boulders and so many locations for photos and for a ceremony.
Some highlights for me would be The Hump Lookout and The Cathedral. A Mount Buffalo elopement sunset ceremony here would be pretty special.
32. Grampians National Park
Grampians National Park is located three hours by car from Melbourne and is a popular nature reserve famous for its sandstone mountains, animal wildlife and natural beauty. It is a perfect location for a small elopement as there is a wide variety of stunning locations. There are Beautiful waterfalls, walks and some very prominent mountain ridges.
A couple of my favourite locations for photos would be Reeds Lookout and The Balconies. These amazing cliff faces offer panoramic views over Victoria Valley and the other surrounding ranges. Boroka Lookout also provides some stunning views over Halls Gap.
33. Cactus Country, Strathmerton
Cactus Country is a huge twelve-acre garden that has the largest collection of cacti in Australia! And you can elope there!!!
This is a totally unique environment for Australia. And a totally unique environment for an elopement in Australia. This is a desert landscape that feels more like you are having your wedding in Mexico, Arizona or Texas.
34. Melbourne Cricket Ground, MCG
---
Queensland
35. Whitehaven Beach, Queensland
There is nothing more Australian than the white beaches of the iconic Whitehaven Beach. It is in every Australian tourism ad, and rightly so.
Whitehaven Beach is a seven-kilometre stretch of squeaky white sand that is only accessible by boat, seaplane and helicopter from Airlie Beach. And it is just spectacular.
Tie the knot on the white sands and around the pristine blue waters. Then go for a swim, have a picnic and drink champagne. Sounds like an amazing day to me.
36. Palm Cove
If you are thinking of eloping in Queensland then you would have to consider Palm Cove for an elopement destination. Palm Cove weddings are an extremely popular destination in North Queensland and they are equally as good for elopements!
Palm Cove is an idyllic village on the beach, situated 25 minutes drive from Cairns and 45 minutes from Port Douglas, and ideal for your tropical elopement.
With Palm Cove elopements, you are totally spoiled for photography options. There is the gorgeous white sandy beach, lined with palm trees. The Esplanade with rows of Paperbark trees, jetty and the dramatic rocky area on the North of the beach. And it is all nestled under a stunning mountain backdrop. There is also plenty of venues and accommodation available all located very close to the amazing beach.
37. Paronella Park
Looking for something a little different, with some Spanish influence to it? Paronella Park is a totally unique and historic heritage-listed location in Australia, where you can get the most unique elopement photos imaginable.
Paronella Park is located 120 kilometres south of Cairns in the town of Mena Creek, Queensland.
Jose Paronella built his dream castle, at Paronella Park in the 1930s. He designed his castle on 5 hectares with picnic area by the waterfall, bridges, a tunnel, and wrapped it in an impressive collection of 7,500 tropical plants and trees (now a lush rainforest!). José Paronella opened Paronella Park to the public in 1935, and the tales of love began.
What is also makes Paronella Park one of the best places to elope, is that they only allow elopements of 20 people or less. Which is exactly what an elopement is.
38. Heron Island
Heron Island is one of my favourite places and definitely on my list of the best places to elope in Australia.
It is located on small coal cay located in the Great Barrier Reef. Is has crystal clear blue water, white sandy beaches and you can walk along the beach with little reef sharks… I am not even kidding. It is paradise and an amazing place to elope and to explore the Great Barrier Reef region afterwards.
Pro-tip, take a helicopter to the island. The views are spectacular and it is so much better than the boat ride over, especially if you are prone to getting seasick. A Heron Island elopement would be a pretty special wedding to photograph.
39. Waterfall Circuit, Atherton Tablelands
If you are looking to elope at a majestic waterfall then there is the famous Waterfall Circuit! Waterfall Circuit is a 17-kilometre loop around some of Queensland's most amazing waterfalls. Located on the Atherton Tablelands, just inland from Cairns, it is a pretty amazing location for a waterfall elopement.
Millaa Milala Falls is an 18-metre waterfall and so easy to access and one of the most famous of the lot. Zillie Falls is 7.5 km away, followed by Ellinjaa Falls, pictured below.
There are about half a dozen more waterfalls in the loop and we would recommend you check them all out and decide for yourself which one is perfect for spot for your elopement.
40. Maleny, Sunshine Coast
It's hard to overlook Maleny when looking for the best locations to elope to. It has rolling hills, lush rainforests, luxury accommodation, perfect venues and spectacular scenery.
Maleny is a small town in the Sunshine Coast region of Queensland, about 30 kilometres south-west of Caloundra. It is located high up in the Blackall Range and one of the things I really love about it is that is has some of the best views of the Glass House Mountains.
41. St Mary's by the sea, Port Douglas
Port Douglas is totally suited to romantic tropical weddings. The region is the best Far North Queensland has to offer, with luxury 5-star resorts, beautiful beaches, a picturesque jetty and surrounding rainforest. And there is a beautiful little chapel that is perfect for elopements.
St Mary's by the Sea is a gorgeous little chapel in Port Douglas, on the foreshore of Dickson's Inlet that is just perfect for an elopement or small wedding. It is located in a very central part of town, close to everything and near Sugar Wharf. The chapel is also air-conditioned which is what you sometimes need in the warm tropical environment.
And if you are looking for a more of an outdoor ceremony location, then Little Cove would be a great option.
42. Sandy Cay, Cairns
How about eloping on your own tiny sandy island in the middle of the Great Barrier Reef? You can if you elope to a sand cay.
A sand cay is a low sandy island that is found on coral reef surfaces. They are formed when drifting sediments on ocean currents descend on the same reef, piling each other up to create an island. So it is basically a sandbar that is like an island.
The best way to get to one is by helicolpter and these guys do exclusive tours there GBR Helicopters or Nautilus Aviation.
43. Purling Brook Falls, Gold Coast
Purling Brook Falls is located at Springbook which is about 45 minutes from the Gold Coast. Making it a really good option if you are looking for a waterfall elopement down that way.
It is a pretty amazing waterfall but it is a bit of a walk. It takes about 2 hours to get there and there are quite a few steps.
Best time to elope there would be after some recent rain and avoid peak times. Weekends and the middle of the day.
44. Girraween National Park
Girraween National Park has some of the most unique rock formations and landscapes that make is an absolutely epic location for an elopement.
It is located in the Granite Belt in the Darling Downs region of Queensland. Right down near the border of NSW.
It features massive granite outcrops and boulders balancing on top of each other. It is a seriously stunning location.
If you are scouting the area, you should also check out its sister National Park, Bald Rock National Park. It is across the border in NSW and it also has some equally impressive rock formations and granite outcrops.
45. Little Crystal Creek, Paluma Range National Park
A small elopement ceremony on the rocks, near a small waterfall and underneath a historic stone arch bridge, sounds like a perfect elopement location to me.
Located 61 Kilometres north of Townsville, Little Crystal Creek is known for its historic stone arch bridge, which was built around the 1930s. It has a cascading waterfall and is a popular swimming hole particularly in summer, on weekends and during school holidays.
46. Wallaman Falls, Girringun National Park
For the ultimate waterfall elopement location in Australia, Wallaman Falls in Girringun National Park is the place.
This is Australia's highest permanent single drop waterfall, standing at a whopping 268 metres in height. It is impressive, particularly after some rainfall.
From the car park, it is a long steep walk down the bottom of the falls. It is about a 2-kilometre walk to the bottom of the falls. This is one of the places to elope in Australia if you love waterfalls.
47. Hayman Island
Located in the heart of the Great Barrier Reef, you could get married in absolute luxury on one of the premier islands in the Whitsundays, InterContinental Hayman Island Resort.
You can get married on the beach or in a beautiful garden setting and they have lovely options for your wedding dinner. A Hayman Island elopement would be really elegant and beautiful and one of the most stunning places to elope in Australia.
---
Australian Capital Territory
48. Aspen Island and The National Carillon
Get married in the centre of Canberra on Aspen Island with the National Carillon overlooking you.
Aspen Island is the biggest of the islands in Lake Burley Griffin and is linked by a pedestrian bridge. The island is full of trees and surrounded by water and it would make a beautiful location for a small wedding or elopement.
49. Square Rock, Namadgi National Park
Elope at huge granite boulders which overlook the beautiful Australian bushland makes this one of the best places to elope in Australia.
Square Rock is not the easiest location for an elopement, but it is well worth it. Located just under an hour from Canberra at the Namadgi National Park, it is an 8.5-hour return walk, About two hours each way.
Namadgi National Park is a huge National Park in the ACT. It makes up 46% of the land in the ACT. So if this location isn't the one for you, then chances are there is another place in the National Park that would be better suited to you.
50. Booroomba Rocks, Namadgi National Park
Booroomba Rocks has one of the best views in Canberra over the Brindabella Ranges and it is again located in the Namadgi National Park.
From the Booroomba Rocks carpark is 2.5 return journey, which is pretty good for such a beautiful location. It is a steep climb, but once you are up there, enter massive granite rocks with huge cliffs and you have panoramic views out over Canberra.
Pick the right time of day and you will get some amazing elopement photos.
51. Shepherds Lookout
Shepherd's Lookout is the northern-most viewing point of the Murrumbidgee River and was named after it's nearby property owners.
I wouldn't have an elopement ceremony at the actual lookout, because there is an ugly fence. But if you do it to the left or right of the lookout, wherever the view is best, you will get stunning uninterrupted views.
There is a water quality control centre facility, but don't let that put you off. It is near the road and doesn't affect the beautiful views of the river and hills. There are about four Nature Reserves on either side of the river, so you can walk around most of the land you can see and it would be wonderful for elopement photography.
52. Old Parliament House
If you love politics or just the heritage of old Australian buildings, then an Old Parliament House elopement might be perfect for you.
Old Parliament House was where parliament sat from 1927-1988. It is a heritage-listed venue that has been fully restored to its old grandeur. There are a number of spaces to choose from, and you can even get photos in the House of Respresentatives Chamber and the Senate Chamber.
---
South Australia
53. Lake Eyre Salt Flats
I love elopements that are a little different, and I don't know too many couples that have had an elopement on a salt flat. South Australia has one of the best salt flats around and I think a Lake Eyre elopement would look amazing for an elopement ceremony.
Lake Eyre is located in the Kati Thanda-Lake Eyre National Park, 697 kilometres north of Adelaide. It is very remote. I wouldn't elope here in Summer. There is no shade and temperatures can reach 50°C.
54. The Barossa Valley
The Barossa Valley is a famous wine-producing region in the northeast of Adelaide in South Australia. And it is a beautiful place for a small wedding or elopement.
There are so many venues, private properties and vineyards in the region to choose from. If you love rustic vineyard weddings then this place could be the idea location for you.
55. Remarkable Rocks, Kangaroo Island
The Remarkable Rocks at Kangaroo Island is one of the most impressive works of nature and definitely one of the most beautiful places to elope in Australia
The Remarkable Rocks sits above the ocean in the Flinders Chase National Park on Kangaroo Island. The rocks have been shaped by the wind, ocean and rain for over 500 million years. It is an impressive location for an elopement.
56. Umpherston Sinkhole
How about eloping in a sinkhole? Umpherston Sinkhole, also known as The Sunken Garden was once a cave that was created by dissolving the limestone. The sinkhole was formed when the chamber top collapsed downwards. Now the topsoil down on the ground is the ideal place for the sunken garden. A very unique and awesome place to have an elopement.
57. Clare Valley
The Clare Valley is one of Australia's oldest wine-producing areas in South Australia and a stunning location for an elopement.
Vineyards, rolling hills and historic buildings make The Clare Valley a beautiful and scenic location for your small wedding or elopement.
58. Sand Dunes at Coffin Bay
Elope on some of the biggest sand dunes in South Australia and then walk over to the ocean and swim. Finish with a platter of local oysters while you watch local emu's and kangaroos walk by. Sounds like an awesome elopement to me.
Coffin Bay located is 46 kilometres northwest of Port Lincoln on the western tip of the Southern Eyre Peninsula. The Coffin Bay National Park has some massive sand dunes which would be amazing for an elopement and for wedding photos.
59. Bumbunga Lake
How amazing would it be to elope at a pink lake? Bumbunga Lake is a salt lake about two hours from Adelaide.
The water is not always pink however. It changes colour throughout the year. It is more likely to be pink in late summer when the water salinity is high and extra salty. Algae and pink bacteria know as halo bacteria cause the water to appear pink.
60. Sandy Hill Forest
A gorgeous, private forest location just one hour south of Adelaide on the Fleurieu Peninsula in Yankalilla. This is a large Pine Forest with an incredible Gum Tree as the focal point for your elopement. It doesn't get any more magical or romantic than this setting.
They cater to elopements every day of the week and can accommodate up to 30 people.
61. Mortlock Chamber, State Library of South Australia
Elope with and ceremony and dinner in the middle of this beautiful historic library.
The Mortlock Chamber at the State Library of South Australia is a historic chamber dating back to 1879. They do events and weddings here and I think a long table in the middle of the room would look stunning.
62. Naracoorte Caves
Elope in a World Heritage-listed Naracoorte Caves, South Australia's only World Heritage site.
Naracoorte Caves are located close to the Victoria border about four hours from Adelaide or five hours from Melbourne.
The caves are available for hire and a marriage ceremony here would be moody, romantic and maybe a little gothic. It would be incredible.
63. Great Australian Bight Marine Park
Get married in the middle of nowhere, but in a pretty awesome location. The Bunda Cliffs located along the Nullarbor Plains along the Great Australian Bight Marine Park.
It's only a 12 hour drive from Adelaide or a 16 hour drive from Perth.
64. The Manor Basket Range, Adelaide Hills
The Manor Basket Range is a stunning old stone castle which is located in the Adelaide Hills. It is a pretty spectacular property and they are popular with weddings.
If I were having an elopement here, I would get married in the garden and then have one long table outside under the stars with the castle as the backdrop.
65. Gawler Ranges National Park
This National Park is quite stunning and has a few lovely sites that would be perfect for a wedding ceremony or wedding photos.
The park is renowned for its magnificent Organ Pipes, created as a result of volcanic eruptions over 1500 million years ago. ,At Yandinga Falls and Kolay Mirica Falls you can find similarly breathtaking rocky outcrops which are not waterfalls
66. Kuitpo Forest
The Kuitpo Forest Reserve was established in 1898 and was one of the first forest plantations in the Mount Lofty area. It is a huge forest plantation that is run by Forestry South Australia. And it would be beautiful for a forest elopement.
It's also worth checking out Burbrook Forest for an elopement or small wedding. It is located on private property but they do have a huge tree which looks beautiful for weddings. Contact them directly for a viewing.
---
Northern Territory
67. Uluru
Uluru is probably Australia's most famous landmark and is rightly at the top of the list of the best places to Elope in Australia. This massive sandstone monolith, also known as Ayers Rock, is located in the centre of Australia in the Uluru-Kata Tjuta National Park.
You can't actually get married inside the national park because it located on sacred Aboriginal land and the whole area is incredibly important to them. But you can get married outside the national park with views out over Uluru and Kata Tjuta.
One surprising fact about Uluru elopements, is that there is really not that many weddings or elopements held there. I would have expected it to be totally booked out with multiple weddings every week. But to my surprise it just isn't.
68. Simpsons Gap, Alice Springs
Simpsons Gap in Alice Springs is one of the highlights in Alice Springs and a magical place for an elopement.
It is one of the gaps in the West MacDonnell Ranges and is located just eighteen kilometres from Alice Springs. For an elopement ceremony, I would just have it in front of the waterhole between the gap. Perfect!
69. Devils Marbles
Davils Marbles Conservation Reserve is a protected area in the Northern Territory located about four hundred kilometres from Alice Springs.
It is also known as Karlu Karlu which translated means 'round boulders'. Karlu Karlu is a very culturally important site for the Aboriginal people. The site is jointly managed with them and almost the entire Reserve is registered as a sacred site. But it is still possible to get permission to elope at this amazing Australian destination.
Geologically speaking, the marbles were created from an upsurge of molten rock that cooled under a layer of sandstone and became solid. The solidifying granite triggered rectangular blocks to produce vertical and horizontal fractures. The cracks breaking down the sandstone, and then the granite was penetrated by water over time. This revealed rounded granite boulders perched on top of each other. Amazing!
70. Kakadu National Park
Kakadu National Park is an enormous park which covers 20,000 km of beautiful land. It is Aboriginal land, as in jointly managed with the government and the Bininj/Mungguy people. So you can elope in this National Park, but you must also be very respectful to the land and the culture. And like all National Parks, permission is given on a case by case basis.
Some of the locations that would be great for a Kakadu Elopement would be Gunlom Plunge Pool, Jim Jim Falls, Maguk, Kunwarddewardde Lookout, Twin Falls Gorge, Nawurlandja lookout or the lookout at Ubirr.
71. Rainbow Valley Conservation Reserve
The Rainbow Valley Conservation Reserve lies approximately 75 kilometres south of Alice Springs. A Rainbow Valley elopement would be absolutely beautiful.
Rainbow Valley is known for its bluffs and cliffs of sandstone with bands of distinct rock colours. It is quite close to Alice Springs, and like most of the Red Centre is best in the morning light or late afternoon sun.
72. Ormiston Gorge, West Macdonnell Ranges
Ormiston Gorge is located 135 kilometres west of Alice Springs in the West Macdonnell Ranges and is a really beautiful location for a small elopement.
It is a little oasis in the middle of the desert. It features a near permanent waterhole with towering red walls.
A Ormiston Gorge elopement would be a beautiful ceremony near the waterhole, followed by a celebratory jump in the waterhole. And then some photos around the area. Perfect!
Other gorges in the area that you could consider include:
Redbank Gorge
Ellery Creek Big Hole
Serpentine Gorge
Glen Helen Gorge
73. Chamber Pillar Historical Reserve
Chamber Pillar is a huge fifty-metre sandstone formation located about 160 kilometres from Alice springs.
Early explorers used it as a landmark and the site is of significant importance to the Aboriginal Culture.
A Chamber Pillar elopement would be simply amazing at either sunrise or sunset.
74. Finke Gorge National Park
Steeped in Australian history, Finke Gorge National Park is located about 140 kilometres from Alice Springs and it is an epic location for an elopement.
Finke Gorge is a wilderness reserve that protects the Finke River. It features high red cliff faces, waterholes and some unique rock formations. If you are thinking of doing a Finke Gorge elopement, be aware that it can only be accessed by high-clearance four-wheel drives.
75. Kings Canyon
A Kings Canyon elopement would be absolutely amazing to witness and photograph, in Australia's very own Grand Canyon.
Kings Canyon is located in the Watarrka National Park approximately halfway between Alice Springs and Uluru. There are two walks you can do. The first is the easiest 2km valley walk and the other is the more strenuous, 6km rim walk. Both would be beautiful for elopement photography.
---
Western Australia Elopements
76. Margaret River
About three hours from Perth is the magical region of Margaret River. Margaret River is one of the most popular destinations in Australia for weddings and elopements. If you are looking for places to Elope in Australia, then Margaret River has to be on your list. It is one of the most awesome places to elope in Australia.
A Margaret River elopement is all about wineries, vineyards, craft beer, the beaches and the coastline. It is the best of the outdoors with a relaxed beach and country vibe. Therefore there are so many great elopement options available here with luxury properties, vineyards, estates, restaurants, farms and actual wedding venues to choose from.
77. Bungle Bungle Range
The Bungle Bungle Range is located in the Purnululu National Park. It is a World Heritage Site in Western Australia's East Kimberley region and it features some of the most spectacular rock formations known as The Bungle Bungle Range.
The orange and black sandstone domes known as the Bungle Bungle, which rise 300 metres above the grassy plains that surround them, are one of the most fascinating geological landmarks in the world. And a Bungle Bungle Range Elopement would be simply amazing!
78. Broome
Located at the top of Western Australia is the beach resort town of Broom. It sits along the Indian Ocean and the 22km stretch of Cable Beach is one of its most famous sites.
Broome is also an excellent place to base yourself as you explore other regions nearby. So you could combine your elopement with your honeymoon. A Broom elopement at sunset on Cable Beach would be a pretty perfect elopement.
79. Cathedral Gorge
If ever there was the most perfect rock cathedral for an elopement, it would be Cathedral Gorge in the Purnululu National Park.
This rare beehive striped formations and deep gorges make it one of Western Australia's most interesting geological attractions, and one of two World Heritage sites in Western Australia.
80. Karijini National Park
Located in the heart of the Pilbara region, Karijini National Park is WA's second-largest park and it would have to be one of the best places to elope in Australia.
The highlight of this park is the colourful gorges and pools within the gorges. Oxer Lookout has views of the Weano, Red, Hancock and Joffre gorges. Near the edge of Weano Gorge, there is a trail leads to Handrail Pool. And over to the east there are the red rocks of Dales Gorge and the cascades of Fortescue Falls.
Many landscape photographers visit this park and it's easy to see why. There is a huge variety of landscapes here and a Karijini National Park elopement would be something really beautiful.
81. Rottnest Island
Sitting just offshore to the city of Perth is the protected nature reserve of Rottnest Island. It is a favourite wedding location for Perth residents and it is also a beautiful place for a Rottnest Island elopement.
Rottnest Island is known for the quokka, a small wallaby-like marsupial. But it is the landscape of the white sandy beaches and turquoise water in the coves and beaches that make it beautiful for elopements. I would just avoid weekends and school holidays as it is a really popular place for Perth locals to visit.
82. The Pinnacles Desert
One of the best places to elope in Australia would have to be the Pinnacles Desert. The landscape and scenery would be just incredible for a small elopement.
The Pinnacles are these unusual limestone formations that are located with the Nambung National Park near the small town of Cervantes, about 200 kilometres from Perth. A Pinnacles Desert elopement at sunset would feel like you were on another planet and be amazing to photograph.
83. Wave Rock
Just 3.5 hours from Perth is one of the most beautiful and usual rock formations called Wave Rock. It is a granite inselberg which has been weathered by wind and rainwater for millions of years.
Local Aboriginal tribes believe that wave rock was a creation of the Rainbow Serpent. Wave Rock would have to be one of the best places to elope in Australia and it is definitely a location that I think would be incredibly beautiful to photograph.
84. Bluff Knoll
The highest peak of the Stirling Ranges in the Southern region of WA, Bluff Knoll would require some serious effort but I think the views would be totally worth it. Location wise it is one of the places to elope in Australia.
It is a 6.8 km return trip taking around 4 hours and is considered a Grade 4 walk. I wouldn't recommend this in the warmer months. But the photos would be incredible.
85. Elephant Rocks
In Western Australia, a few hundred metres east of the Greens Pool is the sheltered beach of Elephant Rocks. One of the best places to elope in Australia. It is located in William Bay National Park about 15 km west of Denmark. The name derives from a collection of exposed rocks that resemble an elephant herd from many angles.
86. Lucky Bay Esperance
Have your elopement on the whitest sand beach in the world! According to a soil scientist and former chairman of the National Committee on Soil and Terrain… Lucky Bay in Cape Le Grand National Park is the whitest sand in the world.
Lucky Bay is known for its white sands and turquoise water and Kangaroos on the beach. Making it also a very popular tourist spot. But all these elements could make it a pretty awesome Aussie wedding.
87. Natures Window Kalbarri
Situated only five hundred metres from The Loop (or Inyaka Wookai Watju) carpark, Nature's Window is one of the most famous natural attractions in Western Australia, built from the layers of Tumblagooda Sandstone.
A Natures Window elopement at sunset or sunrise would be absolutely stunning.
88. King George Falls
King George Falls is one of the best waterfalls in Australia. It just looks incredible! This 100 metre twin waterfall is located in an incredibly remote part of the Kimberly.
It is pretty much inaccessible by car and most people seem to do a cruise below the falls. Or a plane over the falls. But I think the best location for a totally epic elopement, would be on the rocks to the side of the falls. Go somewhere near the wet season so the falls will be flowing nicely. But the wet season in the Kimberly can bring out other issues as well.
Take a helicopter from Broome, Wyndham or from a luxury resort like Berkeley River Lodge and land somewhere there and have the most incredible elopement ever.
89. Mitchell Falls, Kununurra
This four-tiered waterfall is located in the Mitchell River National Park and is an iconic Kimberley tourist attraction. It could be one of the most amazing places to elope in Australia.
For a Mitchell Falls elopement, I would use the walking track to view the falls from the sides. The views look incredible.
90. Francois Peron National Park
Francois Peron National Park such a beautiful area for an elopement, where the red dunes that meet the turquoise water. It is something completely different and one of the amazing places to elope in Australia.
Have your elopement ceremony on the red dunes overlooking the water. Then once you have said your vows, jump into the water and celebrate with a swim. Drink some champagne and then take some photos around the area as the sun sets. Sounds like an awesome elopement.
91. Lancelin Sand Dunes
The Lancelin Sand Dunes are located near the town of Lancelin, which is located about 1.5 hours from Perth.
They are huge white sand dunes that are popular for sand boarding. But they are also awesome for photography and for elopements. A Lancelin Sand Dune elopement would look like you are having your wedding in the middle of the desert and would look stunning in the late afternoon light.
---
Tasmania
92. Cradle Mountain
Iconic Cradle Mountain, in the heart of the Tasmanian Wilderness World Heritage Area, is a location of exceptional scenic beauty and one of the best places to Elope in Australia. The park is revered for its diverse and breathtaking landscapes from the moss-covered ancient rainforests and deep river gorges to snow-covered mountain peaks, wild alpine moorlands and glacial lakes. And it is a totally epic place for a Cradle Mountain elopement. This is without a doubt one of the most amazing places to elope in Australia.
93. Freycinet NP/ Wineglass Bay
National parks were created to preserve truly special locations, and Freycinet National Park certainly has its own magic. Freycinet is an unforgettable and spectacular place. And Wineglass Bay is one of Tasmania's most celebrated views with its crystal-clear waters and sandy white beach. It is a truly magical place for a Wineglass Bay elopement.
94. Hastings Caves State Reserve
Hastings Caves' mystical underground world will open your eyes to what lies underneath the picturesque Tasmanian countryside. And you could elope in this spacious dolomite cave system. The explore this labyrinth of chambers, richly decorated and cleverly lit to highlight prehistoric underground formations.
If this Tasmanian cave isn't quite right for your needs, also check out Mile Creek Karst National Park and their limestone caves. They might be a great alternative.
95. Lake St Clair, (Cradle Mountain-Lake St Clair National Park)
Lake St Clair is located in the Cradle Mountain-Lake St Clair National Park. Which is part of the Tasmanian Wilderness World Heritage Area and is Australia deepest freshwater lake. It was carved out by glaciers over millions of years and you could elope on the shores of this stunning lake.
96. Mount Wellington
Mount Wellington or Kunanyi, is just a 20 minute drive from Hobart. You drive through a temperate rainforest section before ending up at the top of the mountain with huge glacial rock formations and amazing views of Hobart.
For an elopement, I wouldn't go near the actual lookout. I would look for a safe, more secluded area with no hand railings as they will block the view and just look ugly. The reserve has 18,000 hectares of land to explore so there are plenty of locations and wedding photo opportunities.
97. Bay of Fires
The Bay of Fires is a bay on Australia's north-east coast of Tasmania extending from Binalong Bay to Eddystone Point in the north.
The Bay of Fires is one of Tasmania's most iconic conservation reserves, famous for its crystal-clear waters, white sandy beaches and orange lichen-covered granite boulders. And an elopement ceremony on these amazing rock formations would be beautiful.
98. Lake Pedder, Southwest National Park
One of the most stunning places in the world is South-West Tasmania. Pedder Wilderness Lodge is situated in the Southwest National Park on Lake Pedder, and is a really good option for an elopement.
The location is beautiful, comprising the renowned Tasmanian World Heritage Area-the heart of the Tasmanian wilderness. Gordon Dam is also nearby and is a cool location for some elopement photos.
99. Bridestowe Lavender Fields
Bridestowe Lavender Estate is a lavender farm in Nabowla, Tasmania. The Farm is considered to be the world's largest commercial Lavandula angustifolia plantation.
The photos from this place look incredible. And if you are able to get permission for a small elopement at this property, you can imagine how good the wedding photos will turn out.
100. Cape Hauy
For the ultimate in epicness, you could elope at Cape Hauy. This is one of the most epic places to elope in Australia.
It is about a two-hour walk each way (9.4km return) and is a Grade 3 hike. It does have lots of steps and it is probably not a good location if you are scared of heights. But it does look absolutely amazing!
Where to elope in Australia?
If you made it down here, then you must really be looking for an awesome place to elope in Australia. Choosing your perfect location for your elopement is a massive decision. So I really hope this has been helpful for you on your elopement journey.
A couple of quick tips for you:
Before you lock in an elopement location, I recommend that you go there before-hand and check the location out in person. And really decide if it will work for you.
Have a home-base near the elopement location. Somewhere awesome you can get ready in or just somewhere nice to come back to at the end of the day.
Get permission, approval, permits etc all in writing.
Dealing with National Parks, State Forests and any government department can take time. You can't just book things directly online. You have to fill out forms and wait sometimes weeks to hear back from them. So don't leave it last minute.
Hire an awesome celebrant… this is so important.
Hire an awesome elopement photographer… I know someone 😉
I've got heaps more helpful tips on how to elope on this website, but hopefully, this has at least opened up your mind to what is possible for elopements in Australia.
Have a small elopement with just you or just the important people in your life. Make in intimate and personal. And say you vows in the most amazing location you can think of. You will have an awesome time and you will get some of the most amazing wedding photos. What a way to start your life together.